Rabbi Steven and Ruth Gotlib – Co-Directors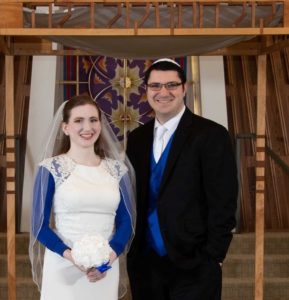 Rabbi Steven and Ruth Gotlib are excited to join the Glebe Shul as our new directors! Before moving to Ottawa, Rabbi Gotlib was Assistant Rabbi at the Village Shul in Toronto. A graduate of Rutgers University, he received rabbinic ordination and a certificate in Mental Health Counseling from Yeshiva University as well as an MBA-Level certificate in Spiritual Entrepreneurship from the Glean Network in partnership with Columbia Business School.
Ruth (Rohde) Gotlib grew up attending New York City's historic Spanish and Portuguese Synagogue, where she always valued diverse Jewish practices and perspectives. After earning a degree in Environmental Science and a certificate in Sustainable Business Practices from the University of Massachusetts-Amherst, she now works as a Project Manager for Arctic Leaf Inc; an E-Commerce company based in Ottawa.
Rabbi Gotlib is always happy to schmooze and can be reached at sgotlib@jetottawa.ca!